Penny
More Info
x
Penny
Penny is a wife and mom of 3 grown children with 3 bonus children that are also grown. She has 28 amazing grandchildren that she loves spending time with and making memories.
She loves playing pickleball and watching baseball, especially if her grandkids are playing!
Penny loves to travel and explore new places and hopes to continue doing, even more, travel as she loves every minute when she can get out of the country to explore.
She loves people and getting to know them, and she loves when she's able to make her clients happy.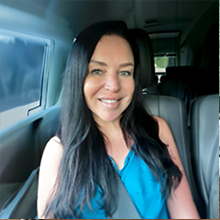 Melanie
More Info
x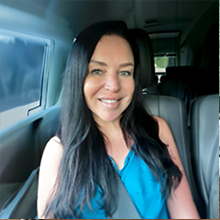 Melanie
Melanie is originally from Wales, but in 2007 fell in love with Mexico and since then decided to make Cancun, Mexico her home.
She has worked in the travel and wedding industry over 12 years.
Melanie loves to travel and has traveled to 49 countries and counting but can still say her happy place is Cancun on the beach with a margarita and a book. The color of the sand and ocean never gets old!
She also loves every country in Europe (especially Italy). Melanie is a foodie who enjoys all the local foods and drinks from the countries she travels to. She especially loves Italian, Asian and Mexican dishes!
Saundra
More Info
x
Saundra
Saundra has loved traveling since a young age.
She's been all over the United States, Mexico, the Caribbean, and Europe.
Saundra specializes in destination weddings, family Reunions, corporate travel, cruises and personal family vacation.
Her hobbies include scuba diving, hiking, reading, and baking.
She's a proud wife and mother of three little boys ages 5, 7 and 9. They all love vacations and look forward to their next adventures traveling the world.
Katy
More Info
x
Katy
Katy is a wife, mother, and grandmother to the best family and they love to go on all kinds of adventures.
They love cruising, and if they aren't at home, they are most likely somewhere in Mexico or the Caribbean hanging on a beach, snorkeling, or eating all of the yummy foods!
If she's not on a trip somewhere, you will probably find Katy hanging in the pool, reading, or playing games with friends.
Zandra
More Info
x
Zandra
Though Zandra has always lived in Southern California, other than the two years she went to school in Mexico when she was younger, she spends as much time as possible in other places.
She's an explorer at heart with a passion for traveling and discovering new people, foods, and cultures.
As a Spanish speaker, she enjoys anywhere she can speak to locals.
Her Italian is so-so, nevertheless, she loves Italy, especially Rome, which has a special place in her heart.
Her kids and grandkids live in other places within the US, luckily she gets to see them often.
As much as she loves traveling, she cherishes coming back home to Laguna Beach to visit with family and friends, get to the gym, and trying out new recipes.
Lesley
More Info
x
Lesley
Lesley is a married, mother of two who has been a travel advisor for the past 8 years.
She specializes in destination weddings, milestone birthdays, golf trips, family reunions, fraternity and sorority celebrations, and girlfriend getaways.
Lesley is an active member of  Delta Sigma Theta Sorority, Inc., Jack and Jill of America anc the Lincoln University Pa Alumni Association and Chapter.
She was raised in a traveling family and learned to love it even more as an adult. The memories are priceless! She can't wait to make your trip memorable for you.