While our daughter, Rebecca, studies abroad in Copenhagen for the semester we decided we wanted to visit her. Because we've been to Copenhagen and many other European countries, we were looking for something slightly out of the ordinary. I'd heard a few things about visiting Morocco, but when I started researching all there is to do, I was pleasantly surprised and getting very excited! My husband, Jack and I met our daughter in Casablanca to kick off our trip. Here's a brief recap of our trip as we adventured and ate our way through the menagerie of magnificent Moroccan landscapes:
Day 1
After a long flight from Philadelphia, we finally arrived in Casablanca and met our driver to embark on our 10 day adventure in Morocco.
Our first stop was the Hassan II Mosque, where we explored the sixth largest mosque in the world. The Hassan II Mosque is known for its hamman, or steam baths.
After a quick first stop, we were on our way to Rabat, where we'd be stopping at our first Riad Kalaa, or a traditional Moroccan house with an interior garden or courtyard in the center, open to the sky. After being greeted with soothing mint tea, we were escorted to our beautiful rooms. We really loved that the rooms surround the luscious gardens and provide for a tranquil environment that almost helped me forget how tired I was from the flight.
We hopped back in our jeep (4×4) and headed to one of the newest additions to Rabat and an absolute must-see attraction. The Musee Mohammed VI d'Art Modern et Contemporian de Rabat is dedicated entirely to modern and contemporary arts and the first public institution following international museological standards. The exhibits spanned the evolution of Moroccan artistic creation in the visual arts, from the beginning of the 20th century to current days.
I have to say that Rabat is a pretty city and really exceeded my expectations. This is especially true with the Oudaya Kasbah, Mohammed V Mausoleum and the unfinished Hassan Tower. Throughout our trip we saw many kasbahs, which have 4 towers and are made out of clay and stray.  After a rain, you need to repair areas of the Kasbah that are damaged. If it's not repaired over time a Kasbah will disintegrate.
Day 2
The drive from Rabat to Meknes was stunning. After passing by tons of expansive fields we saw the massive Bab El Mansour Gate into the city. Once inside the gates of the city, we stopped at a granary and Harri Souani Stables. We found that the cultural relevance and history were so different from our cultural landmarks and history lessons back home in the U.S. We continued by walking the UNESCO site of Volubilis while looking out on the rolling hills that surround the ancient ruins of Volubilis. Note: this was an awesome photo op!
With a population of about one million people, Fes is the third largest city in Morocco. We stayed at Riad Louna, which is in one of the three "neighborhoods" that Fes is split into. Riad Louna's terrace is a peaceful place to have breakfast and mint tea in the afternoon. Outside of the Riad, the Medina is full of narrow alleys where donkeys and people jockey for personal space amongst the various shopping stalls filled with trinkets and hidden gems.
Day 3
Our third day was filled with sightseeing. Lots of sightseeing. We saw Ifrane, Midelt, Ziz Gorges, Erfoud, Rissani, and Merzouga. One of my favorite parts was Ifrane, which is referred to as the little Switzerland of Morocco. I know what you're thinking – Switzerland in the Morocco? It's a sky resort with colossal chalets and snow covered mountains.
Ifrane illustrates how in a matter of minutes the landscapes could change as we crossed over the Middle and High Atlas Mountains to the desert. Temperatures ranged from 40-85 degrees in one day!
Further south, we traveled to Erfoud, an oasis with over six million palm trees. As our Jeep bounced across unpaved, unmarked roads, we set our sights on our Kasbah Panorama. While sipping our mint tea we gazed out on the vast desert and watched as the sun set on the sand dunes in the distance. After the sunset, chicken tagine was served family style while traditional African music was played.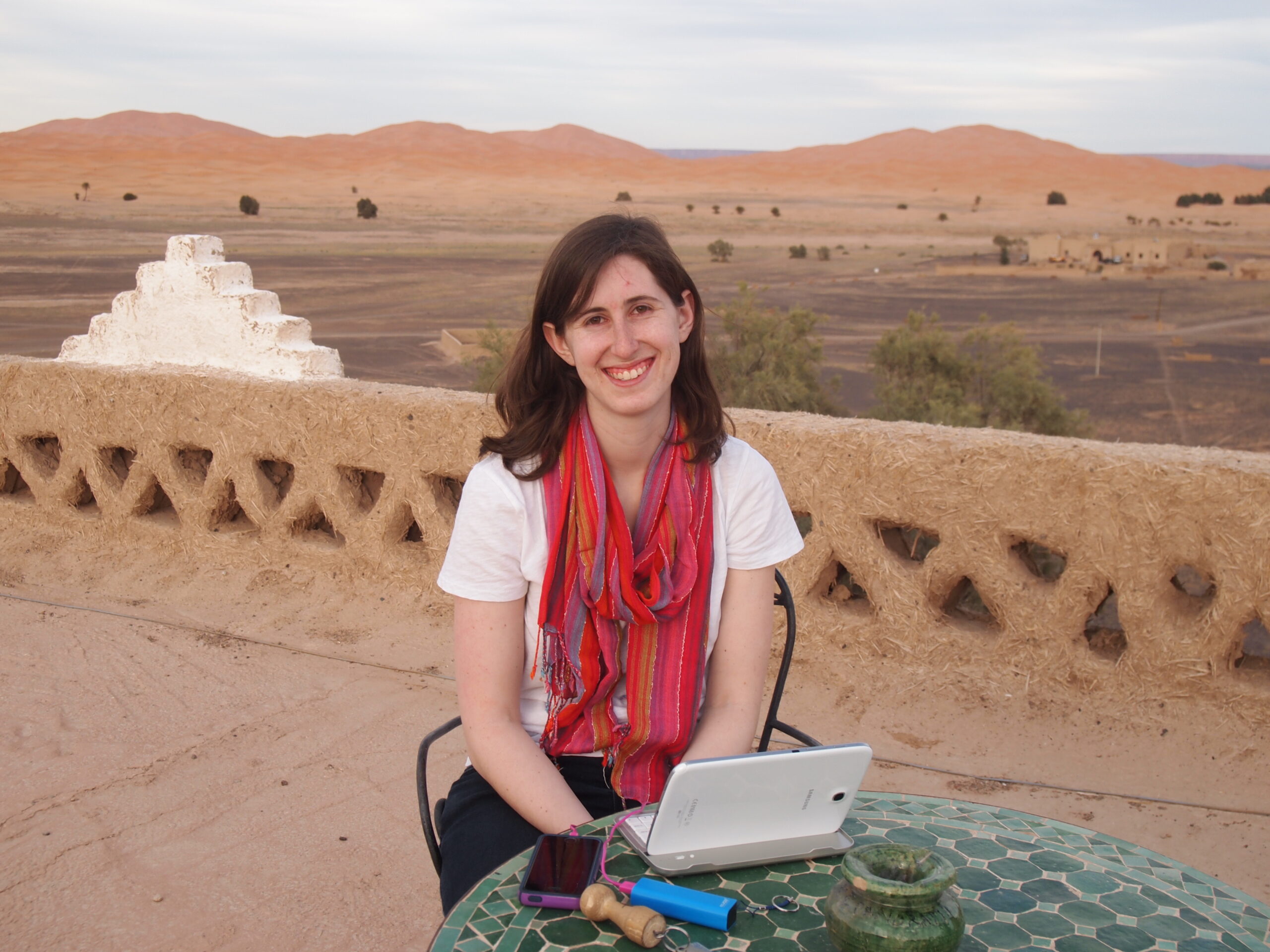 Day 4
In the early morning after a hearty breakfast of a variety of carbs, jams and olives, we headed out to the Khamlia Village with the Gnawa people to listen to their spiritual music.
After departing the village, we had a moment that reminded me of an icy day back in Pennsylvania. For those of you that have driven in snow and ice know what it's like to travel with salt, shovels and snow tires. Similarly, in Morocco, as we were driving, we got caught in a sand dune. Instead of salt, shovels and snow tires, we had to find large sticks in the middle of the desert to rock our jeep back and forth.
After that experience, I was totally ready for a nice cup of tea. We joined a nomadic family and played soccer with their young child. As we sat with the family, both our guide and owner of the tour company, grew up as nomads, became well educated and now wanted to educate visitors about the 'true' Morocco so that we could appreciate a different way of life.
Later that afternoon our guide expertly covered our heads with scarves to protect us from the sun. We over-packed for the one evening in the Berber Camp (nothing but a head lamp is needed) and set off into the desert on our camels.
There were seven of us as we rode our camels for almost two hours through the sand dunes. At first we were laughing and trying not to fall off our camels, and then we settled in and became as silent as the night.
Finally, in a valley of sand dunes we saw the camp as a sense of joy swept through the group. Our tents were equipped with cots and heavy blankets and we settled in for dinner and a relaxing night under the stars.
Day 5
As the sun rose over the sand dunes we headed out to catch the sunrise and prepare for breakfast before embarking on the day's journey.
We were off to the Todra Gorges and Dades Valley as we passed by the gorges in the eastern part of the High Atlas Mountains. Nearby, the Dades Rivers have carved out cliff-sided canyons through the mountains that some refer to as "monkey fingers".
We stopped at the Dar Jnan Tiouira, a family-run guesthouse that was magnificent. Prior to dinner, the owner took us on a walk through the fields of vegetables and herbs, cultivated by Berber women that opened to a river with mountains all around us. Our French-Moroccan style dinner was a welcome respite from the go-to tagine and couscous!
Day 6
We ventured to Ouarzazate (try saying that 5 times fast) where we went off-roading along the Boutarar piste to visit Berber nomads in their caves. Interestingly, Ouarzazate is known for their filming and editing industry. Television shows, such as Game of Thrones, and many movies have used this area to film.
As we departed, we passed through the Valley of Roses, which is famous for its rose water and Rose festival in May and the kasbahs of Skoura.
We stayed at Dar Chamaa, which was yet another beautiful riad. The riad had a luxurious pool, spacious and clean rooms, and delicious turkey cutlet dinner with wine.
Day 7
Next we headed to Telouet, a Kasbah along the former route of the caravans from the Sahara over the Atlas Mountains to Marrakech. Sitting at almost 6,000 feet, the palace can still be visited, although it's slowly becoming damaged.
After our short visit to Telouet, we traveled to Marrakech, a city that's quite different from Casablanca, Rabat and Fes. Much like comparing Los Angeles, Boston, and Chicago.  All with its own flavors, culture, and unique history.
We stayed at Riad Bahia Salam, a few blocks from the Jaama El Fna Square. The Riad was pretty and a perfect location with a relaxing pool and terrace area, although it lacked a delicious breakfast like some of the other hotels.
Day 8-10
While in Marrakech, we made sure to stop by the famous Djemaa El Fna square, where each evening there are crafts, storytellers, food, snake-charmers, and jugglers. We worked our way to the center, where all the food stalls are, and picked out some food, grabbed some bench space and watched as groups of people worked their way through the crowded market.
A perfect way to end our Moroccan experience was with a cooking class at La Maison Arabe. It was professional, fun, and delicious. We were even given a gift of our very own tagine to bring home!!
Summary
Shopping: There are tons of places to stop and buy little trinkets and gifts. Scarves, skewers, fresh fruit, pottery, and much more can be found in every city at the Medina's.
Food:  Tagine and couscous, skewers of chicken or meat were your options for lunch and dinner. The tagine's conical shape makes a uniquely moist, hot cooking environment for the dish being cooked. Often stews with chicken or lamb accompanied by couscous or rice. Breakfast was consistent everyday but it was a matter of how it was served that made a difference!
Lodging: Riad and Kasbah are the traditional way to lodge in Morocco.  There are hotels in the New City sections in both Fes and Marrakech, but I would recommend the true experience of staying in a beautiful, hospitable, and welcoming Riad and or Kasbah for your adventures throughout Morocco.  I would also suggest a one night stay at a Berber camp, truly a unique and unforgettable experience that no trip to Morocco would be complete without!
Overall: We felt quite safe in Morocco and really enjoyed diving into its culture with riveting historical stories, breathtaking sites, and expansive landscapes. People are hospitable, warm, and generous and there wasn't really a language barrier. Finally, I'd definitely suggest not staying in the New City of each city. To really experience Morocco, you need to experience a Riad, a Kasbah and a guest home.
Sharon is a travel concierge with Vacationeeze who specializes in European getaways, family trips, and couples retreats. Contact her to book your next trip.